History about Vaganza
Vaganza is a new day come.. I'm Niki, I started game development when i was in high school student. And this is my Story..
2001 My First computer
I like playing a game a lot when i was kid. I have an old Nintendo console and playing that after school often (whereas Playstation console is popular on that year, but i haven't enough money to buy ps). I usually play PS too on the rental. That what makes i'm very excited about game..
My immediate family have a computer in the house (and have PS too). I frequently watched them playing game on the computer, I remember.. they playing Roller Coaster Tycoon. When I watched them, I 'm very excited, I really want have a computer and play that game, they also show me The Sims, Diablo, Duengeon Siege, Counter Strike, and many computer game, that makes me really wanted bought a computer.
My mom knowing that. In last month of the year, my mom's bought me a computer!
2002 The Year of Playing Game
My first computer is so slow! I remember, the specification is Intel Pentium 2. Not many game i can play on my computer. But I still happy, i still can play some tycoon game like Roller Coaster Tycoon like on my immediate family's have. I Also playing the sims and monopoly tycoon. I play tycoon game too much, tycoon is 'building type' game, that also makes me thinking to build my own game. But I didnt have any knowledge about that.
This year PlayStation's price is going cheap. Someday, my mom told me to go with her and also with my blood brother. I'm suprised, because she want to buying me a Play Station Console! Another game machine on my home!
I playing game on Play Station much beside i still play my computer. In Play Station, I also often playing tycoon type game. Someday, I go to game store for buying some cool play station game CD's. I'm suprised when I saw different tycoon type game that makes me really excited about game development. The game is RPG MAKER.
2003 First Game?
I can't say that, because my first RPG game is inside a game.. haha, it can be play only on the game which to put my memory card inside. But, my acquaintanceship with RPG maker make me want to make a game deeply. I haven't internet connection on the year. My Friend's have. He always searching game on the internet. He know that i'm very interested about game development and also RPG maker. Luckly, he have a computer version of RPG Maker. I borrow the CD immediately, and install on my computer!
But my game on the RPG Maker computer version is didnt finished. Because I meet a new cool game development software from scratch which is Macromedia Director.
On this year, flash and director type game is very popular. I try to make my first game on Macromedia Director with my old computer. And finished well, there is shooting bird game, on the game i can buy some weapon, upgrade weapon, buy bullets, and have some place to shoot. Ah! I miss that day..
2004 Year of Internet?
on 2004, I was on High school student. I was a bad boy on this year, I play with my friend too much. I play computer just for Friendster and chat. Which is very popular on this year. And Because on my home is still haven't a internet connection, i just go to Internet cafe.
Internet makes my knowledge grow. Also about game development. I know some game development software like Macromedia Flash or Game Maker. But I interest to Macromedia Flash.
2005 Visual Basic?
In this year, my high school introduce me to a software named Visual Basic. I learned a lot Visual Basic, that makes me think to make a game with Visual Basic. I Also learned Flash as well as learning visual basic. I didnt make any creation on this year. because I'm busy play with my friend.. haha
2006 First Competition
My Knowledge about visual basic is growing. My teacher is told me to join a Visual Basic Game competition on PASIM (university of computer located very close with my school). I have a team. And my team make 2 game. Japanese Suit game (I dont know english word of "suit" haha. i'm sorry) and Aircraft Scrolling game. And I have 3rd Win! Although not in the first place, but that's my first step to be a game developer for me. My school is very happy hear that.
That is the first way why I want to serious about this business..
2007 First Flash?
This year an phenomenal phone is born. Yep, that was iPhone. But i didn't want to share about an iPhone yet because i haven't got skill to build iPhone app nor bought an iPhone. Because it's too expensive on this year. This year (2007) i've been busy because i moved on to Jatinangor (previously in Bandung), because i've college now at Padjadjaran University, at Social Politics Faculty, Departement Anthropology. My mom is bought me a Laptop, yes a laptop. On the time, Laptop is so expensive and so exclusive (just some students have a laptop), and i really like my first laptop. My first laptop is Axioo (i forgot about the type). The spec is Celeron M Procie, 512 mb Ram with 128 share to VGA, and 80 GB of Hardisk. I found the pic of my first laptop from uncle google (thanks!), there is:
With this laptop, my passion of game development is raise! And i begin learn Flash Action Script 2 deeply. I make some little game, but i didnt monitize that. I remember that i dont have a name for my own studio (altough just me inside. haha), And so i named my studio with Nickz's Castle. Narcissistic name isn't it?
I found my first logo what i'm talking about, this is it:
its all classic.. haha
2008 Going Serious: First Vaganza
2008 is the first step i'm going serious to this business. I make some game but didn't winished well. And this year, i've a problem with me logo and studio name. I think is just too personal if i put my name into a brand ("nickz"). So i change the name to God of Vaganza. The reason i choose this name is simpe. It's cool! haha. I remember that i was made my first logo of godofvaganza brand:
And the reason why i put the red devil on my logo? It's because that cool too.. lol
Like what i said, 2008 i was going serious about game development, I make some games. 2 game i Think the best is: Drag bike manager and Tattoo Tycoon.
From here, i make decision to be serious for this business. I make some business card, and I tell everybody that I have a game development business. I make a game with macromedia flash mx. And i make some tutorial on this year on some game development forum like gamedevid.org. I join gamedevid.org on this year too.. My username on gamedevid is godofvaganza.
I make some unfinished game too. Strong Arms is my unfinished project, this is slash rpg type game like diablo.
I make an blog too on blogger. That is: godofvaganzagameware.blogspot.com
2009
This year Flash game business is growing up. Some of game I make is Run Jacko. Run Jacko is a game about running and avoiding any trap on our way untill finish. I didnt make a money from this game.
Fortunately, drag bike game i make on last year have many player. The publisher (bikegamer.com) want me to make a sequel. And so drag bike manager 2 is born. Theres something cool about this game is a lot of feature added. Like umbrella girl, modifing a bike look a like, and many option to make your bike racing team better.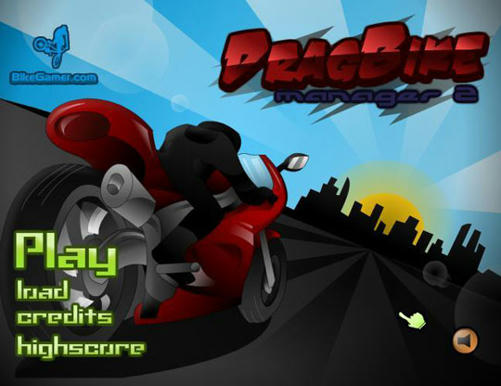 This year I make new logo, it's same with logo before, the different is just on color, the color is make a gradient, and didnt use line around a logo.
2010
2010 is the first time I make an vaganza's professional web. But not in this website. The website is: www.godofvaganza.com. But the web is not working now. 2010 i change the logo again.
2010 me and some friend join an Axioo marketing competition idea. And We win on 2 category. Best idea and best votes. Best idea is because on The idea i put game on the marketing plan. And when we presentation, we use flash animation. From that, We have a lot of project with Axioo.
From the competition too, i have an new Axioo's laptop. There's MNC type with dualcore processor. The new laptop is a price from the competition. So i have free.
On this year, i teach on IT unofficialy in my campus. Bad news in this year is my hardisk is broken. All data lost, all of my work and game is lost. It cant be repair. So i started from scratch everything again.
Some chinese company want to make my game (drag bike manager 2) to expand on their market in chinese. I really interested. But i cant. And you know the reason. Yeah.. The fu**in hardisc.
2011
2011 I join an competition again, that was a huge competition. There is pimnas. I started pimnas on pkm. I make an pkm proposal about my business,
–to be continued–